Myanmar's Cities & Countryside in Style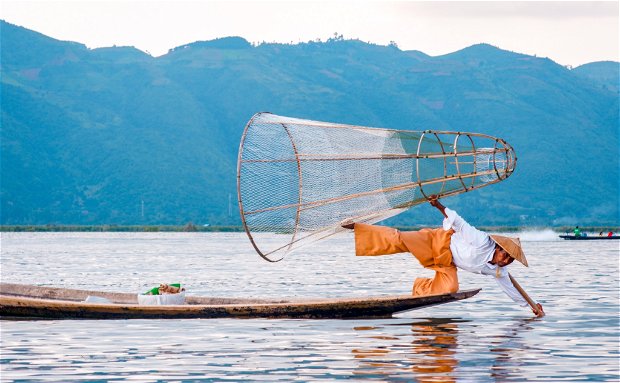 Yangon – Bagan – Mandalay – Inle Lake – Yangon
Please note the price includes the following:
Accommodation with double occupancy rooms including breakfast (ABF)
Transportation for excursions and sightseeing with a private car, driver and air conditioning (as mentioned in above programme)
Domestic flights including airport transfers and tax 
A visit to Mintha Theatre in Mandalay
Horse cart in Bagan
Sunrise ballooning in Bagan
Dinner will be served as mentioned in the program
Sandbank dinner in Bagan
English speaking station guides at each destination 
Government tax
Admission and zone fees at each destination 
The price however, does not include the following:
International flight tickets
Visa arrangements for Myanmar
Any personal expenses for souvenirs, lunch, dinner, tips, etc.
Meals not mentioned in the program (B=breakfast, L=lunch, D=dinner)
Christmas and New Year's Eve compulsory dinner at the hotels
All other services not mentioned
Tips for guides and drivers
Itinerary
Upon arrival at Yangon International Airport you will be warmly welcomed by our local guide and accompanied to your hotel. Once checked in, you are free to relax and enjoy the remainder of your day at leisure to recover from the international flight.
Yangon (Rangoon) is the former capital of Myanmar. Compared with other Asian cities of similar size it has a very green environment, full of parks and trees giving an impression of calm within the chaos. The centre of Yangon still retains many impressive old buildings from the British colonial period, while ancient glistening pagodas seem to float above it.
In the evening, you will be picked up from the hotel for a private transfer to O'thentic, a gay-owned French crêperie, bistro and wine bar. The friendly staff and buzzing atmosphere are sure to give you the best possible welcome to Myanmar. 
Overnight in Yangon.
After breakfast start exploring Yangon, the largest city in Myanmar and its commercial centre.
Start the tour in the heart of downtown Yangon to learn about British colonial-era buildings such as City Hall, Immigration Office and High Court Building. During this historic tour, stop at Mahabandoola Park, home to the Independence Monument for photos and an opportunity to people-watch. 
Afterwards, head towards Scott's Market for some retail therapy. This covered market is over 70 years old and houses the largest selection of Burmese handicrafts under one roof. Even if you choose not to buy anything, a ramble through the various stands is an experience in itself and a great opportunity to see the range of products made in Myanmar. (Note: Market is closed on Mondays and public holidays). 
Then we will continue to Chaukhtatgyi Reclining Buddha, a 66 metre-long reclining Buddha image. This is an interesting place to learn about the importance of Buddhism to Myanmar people and gain a better understanding about Buddha's time on earth. Locals regularly come here to pray. 
Today's excursion will end with a visit to Shwedagon Pagoda – the ultimate highlight of Yangon and, for some, Myanmar itself. The 2,500 year old gold-plated pagoda located in central Yangon is the country's most religious site. It is the lifetime objective of all Buddhists in Myanmar to visit this beautiful complex at least once. Enjoy the peaceful and spiritual atmosphere as you walk around Shwedagon, taking in all the sights and incense smells.
Tonight, grab a seat at a local restaurant on 19th Street which is popular among local people to eat barbeque meat and vegetables. A cold draught beer is the perfect accompaniment to wash down your meal in lively surroundings.  
After a few beers and wholesome food, return to the hotel to get ready for a night of drinking (and maybe even dancing) at one of Yangon's most popular night spots. There are a number of rooftop bars around with magnificent night time views, as well as local beer stations where locals gather at night. We will head back to the hotel at around 11pm.
Overnight in Yangon. 
Wake up for a late breakfast this morning and then enjoy the rest of the morning relaxing at your hotel by the pool or with a spa treatment.
Once you are feeling sufficiently rested, we will go to a local tea house for some local snacks and food, including samosas, curries and the must-try tea leaf salad. 
When your stomachs can take no more of the delicious local snacks head back to the hotel for an afternoon at leisure (or working out if you choose to make use of the gym facilities). 
Dinner will be served at the hotel. 
Overnight in Yangon. 
Enjoy breakfast at your hotel and transfer to Yangon Airport for your flight to Bagan, one of the most remarkable archaeological sites in Asia and home to over 2,000 temples and pagodas. 
Upon arrival, start a full day of sightseeing with a visit to an elevated viewing point to enjoy a panoramic view over the temples of Bagan (temple climbing was recently banned in order to help preserve the ancient pagodas). Then discover Shwezigon Pagoda, one of the oldest monuments in Bagan and the prototype on which Burmese Stupas have been modelled for hundreds of years. Gubyaukgyi Temple (Wetkyi-In) is the next stop. This temple is most well known for its wall paintings depicting scenes from the Jataka (the life story of the Buddha). Then we will explore Htilominlo Temple, famous for its traces of old murals, original fine plaster carvings and glazed sandstone decorations – ceratinly one of the most beautiful temples in the entire complex. 
To avoid the heat of midday Bagan we will check in to the hotel for some time to cool down and relax. In the afternoon we visit Ananda Temple with its four huge Buddha images in standing position, all facing in different directions. This is one of Myanmar's most revered temples. 
Later, climb aboard a horse cart for a short ride through lesser-visited parts of the temple complex and to hear some interesting stories from the driver who has been working here for many years. Your driver knows all the best spots to stop for a memorable photo and this is one of the best ways to get around Bagan.  
In the evening before sunset we will take a boat to a sandbank in the middle of the Irrawaddy River and enjoy a delicious sandbank dinner with multiple courses of local dishes, such as curries and fried snacks. While enjoying the sunset you can also watch a demonstration of 'chin lone' (Myanmar football) by local experts, and give it a go if you would like. This is a truly authentic experience that you will not get anywhere else in the world. 
Overnight in Bagan.
Optional activity: Early this morning take the opportunity to embark on an adventure of a lifetime by going on a breath-taking ride in a hot-air-balloon over the ancient temples and pagodas of Bagan as the sun begins to rise. Depending on the weather, the flight usually lasts around 45 to 60 minutes. This activity is extremely popular, but rest assured we will pre-book once you confirm your interest.  
After the hot-air-balloon flight, you will be brought back to the hotel for breakfast. 
Then, we will drive to Mount Popa (around 45 minutes by car), also known as the 'Flower mountain'. 777 steep stairs lead up to the 737 metre (2,417 feet) high peak of its extinct volcanic vent ('Taungkalat'). Small pagodas and temples are perched at the summit, from which you have a lovely view over the surrounding area. Mount Popa is the home of the country's most powerful Nats (sacred spirits). Many Buddhists believe in these spirits and go on pilgrimage to the mountain to make offerings.  
Lunch will be served at Popa Mountain Resort with a stunning backdrop over the surrounding countryside.
After sightseeing around Popa, head back to the plains of Bagan. En route, visit Shwe Hlaing Village located just outside of Bagan. The people of this rural village make their living by producing various items from the local toddy palm trees, including palm sugar and palm wine, both of which you can try during your visit. You will have some time to walk around the village and observe the process of making Myanmar sweets and liquor from the toddy climber's scramble up the tree to the final product itself. 
As the sun begins to go down, we will return to Bagan. 
Dinner will be served at the hotel. 
Overnight in Bagan.
After breakfast check-out and transfer to the airport for your flight to Mandalay. Upon arrival you will be picked up by private air-conditioned vehicle and taken into this royal city, the cultural centre of Myanmar. 
Start with a visit to Mahamuni Pagoda, a four-meter-high Buddha image cast in bronze, but gradually covered with a thick layer of gold leaf over the years. If you are lucky you might even see devotees applying gold leaf to the image (this visit is time permitting). We will then go to some arts and crafts workshops such as a tapestry and handmade gold-leaf making workshop. Mandalay is famous for these arts and is the best place to see the intricate work being done. 
Afterwards, proceed to Shwe Nandaw Monastery, or 'Golden Palace Monastery', well-known for its exquisite wooden carvings and being the last remaining part of the original Royal Palace. You will also visit nearby Kuthodaw Pagoda, renowned as "the world's biggest book", containing 729 marble slabs inscribed with Pali scriptures, all surrounding a pagoda.
Before sunset we will go up to the top of Mandalay Hill from where you can enjoy breath-taking panoramic views of the city and the Irrawaddy River while watching the sun go down. Friendly locals often gather here.
Enjoy an early dinner at a local restaurant.
After dinner, head to Mintha Theatre to enjoy a classical Myanmar dance show lasting one hour. The show is composed of a series of short dance pieces by performers in lavish traditional costume. All profits generated go towards the Inwa School of Performing Arts to help preserve this authentic culture. 
After the performance you will be driven back to your hotel.
Overnight in Mandalay. 
After breakfast set off on a half-day excursion to Mingun. Take a short drive from your hotel to the jetty where you can observe the lively activity of boats arriving and departing before boarding your own riverboat to travel to the ancient capital city of Mingun (approximately 1 hour each way).
The first stop after disembarking is the unfinished yet magnificent Mingun Pagoda which would have been the largest pagoda in the world had it been completed. Then walk to the Mingun Bell, the largest ringing bell in the world. Afterwards, continue to the white-washed Hsinbyume Pagoda (Myatheindan), a replica of the mythological Mount Meru where your guide will tell you the interesting story behind it and give you time for an amazing photo. Then, stroll back to the boat while stopping at the numerous galleries lining the road.
We will cruise back to Mandalay and transfer to the hotel for relaxation.
In the afternoon, travel to Amarapura, the 'City of Immortality' and former royal capital. Here we will visit a silk-weaving workshop and end the day with a sunset walk over the 200 year-old U Bein Bridge, the longest teakwood bridge in the world (1.2 km). You will also have an opportunity to take a sunset ride on Taungthaman Lake to enjoy the beautiful sunset from a different vantage point (optional).
Dinner will be served at your hotel tonight. 
Overnight in Mandalay.
Day 8
Mandalay - Heho, Inle Lake
After breakfast at the hotel this morning transfer to the airport for our flight to Heho. Upon arrival, drive to Nyaung Shwe (around 45 minutes), a small town full of hotels, restaurants and local life located at the northern end of Inle Lake.
From there, board a motorboat for a full day of sightseeing on the lake which is well-known for its unique one-leg rowers who manage to row their boats and fish while balancing on just one leg. The various floating gardens growing fruits and vegetables, as well as villages on stilts in the middle of the lake, create an idyllic atmosphere on this body of water that is so full of life.   
Our first stop on the lake will be Phaung Daw Oo Pagoda, home to five gold leaf-covered Buddha statues that take on more of a round shape nowadays due to the amount of gold leaf that has been applied to them by worshippers. This is a special place with a special story so make sure you are listening when your guide tells it. Afterwards, step back into your boat for a tour of various floating villages to experience traditional handicrafts being made. Depending on your interest, we will try to visit as many of the following workshops as time permits: 
Silk weavers : In Paw Khone Village
Gold & Silversmiths : Ywama Village
Paper Makers : Ywama Village
Boat Makers : Nam Pan Village
Cheroot Makers : Nam Pan Village
In the afternoon, take a peaceful canoe boat ride through the floating gardens to learn about local farmers' unique methods. This is a great opportunity to get away from the noise of the lake's loud boats and see what local life on the lake is really like. 
Then, return to the hotel by motorised boat while taking in the lovely sunset.
Dinner will be served at the hotel. 
Overnight on Inle Lake. 
After breakfast, we will take the boat to enjoy the morning market on the lake which changes location on a five-day basis. These bustling markets around Inle Lake are mostly of interest for the variety of different products on offer, including vegetables grown on the floating gardens and textiles made by local people around the lake. A visit to the market is a fantastic place to meet people from various ethnic groups from around the lake who come to sell their wares.  
Then the journey continues to Indein village with its 1,094 small but significant stupas surrounding the larger main pagoda, Shwe Indein Pagoda, on the west bank of Inle Lake. Explore the area on foot and don't forget to wander around the village nearby and the long line of stalls selling interesting crafts from all around Shan State. 
In the late afternoon we will switch the water for the road and hop on to bicycles for the short, uphill ride to Red Mountain Winery to enjoy a beautiful sunset over the lake while tasting local wine (red or white) right where it is made. Myanmar is not famous for its wine but this is an experience not to be missed when visiting the region. 
Dinner will be served at the hotel.
Overnight on Inle Lake.
Enjoy a leisurely breakfast at your hotel this morning and then have the rest of the day to enjoy the wonderful facilities of your hotel – lounge by the pool, work out at the gym or treat yourself to a relaxing massage at the spa.
Overnight on Inle Lake. 
Remarks: No transportation, guide services, lunch or dinner are included on this day.
Day 11
Heho, Yangon Departure
After breakfast at the hotel you will be brought to Heho Airport for a flight to Yangon. Upon arrival, our local guide will accompany you to the international terminal for your departure flight or take you on a short excursion in the city (time permitting).