Myanmar Cultural Adventure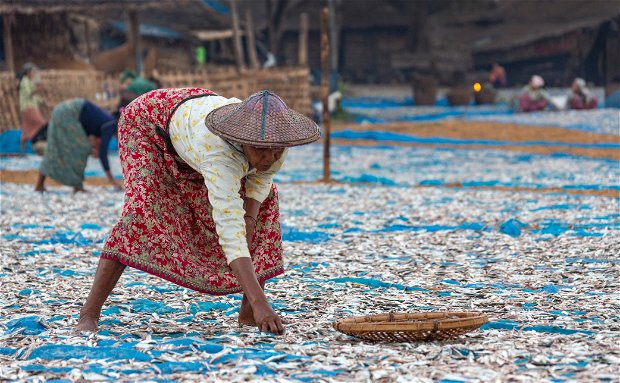 Yangon – Mandalay – Bagan – Ngapali Beach – Yangon
Please note the price includes the following:
Accommodation with double occupancy including breakfast (ABF)
Transportation for excursions and sightseeing with a private car, driver and air- conditioning (as mentioned in above program)
Domestic flights including airport transfers and tax 
A visit to Mintha Theatre in Mandalay
Horse cart in Bagan
Sunrise ballooning in Bagan
Dinner where mentioned 
Sandbank dinner in Bagan
Luxurious Anawrahta cruise from Mandalay to Bagan (3 Days – 2 Nights)
English speaking station guides at each destination (except at Ngapali beach)
Government tax
Admission and zone fees at each destination
The price however, does not include the following:
International flight tickets
Visa arrangements for Myanmar
Any personal expenses for souvenirs, lunch, dinner, tips, etc.
Meals not mentioned in the program (B=breakfast, L=lunch, D=dinner)
Christmas and New Year's Eve compulsory dinner at the hotels
All other services not mentioned
Tips for guides and drivers
Gallery
Itinerary
Upon arrival at Yangon International Airport, you will be warmly welcomed by our local guide and accompanied to your hotel. You will be taken back in time with a transfer to the hotel by private Elephant Coach. This is a luxury experience placing you in the historic surroundings of 'yesteryear'. 
Once checked in, you are free to relax and enjoy the remainder of your day at leisure to recover from the international flight. 
In the evening, freshen up and get ready for a romantic welcome dinner at your hotel in a setting of tropical gardens dotted with lotus ponds. The smell of local spices fills the air as you tuck into an unforgettable dinner to kick off your Myanmar adventure. . 
Overnight in Yangon.
After breakfast start exploring Yangon, the largest city in Myanmar and its commercial centre.
The city tour starts with a visit to Chaukhtatgyi Reclining Buddha, a 66 metre-long reclining Buddha image. This is an interesting place to learn about the importance of Buddhism to Myanmar people and gain a better understanding about Buddha's time on earth. Locals regularly come here to pray. Then, venture into downtown for some shopping at Scott's Market. This covered market is over 70 years old and houses the largest selection of Burmese handicrafts under one roof. (Note: Market is closed on Mondays and public holidays).
After shopping, drop your bags off in the car and begin to discover the heart of Yangon with a walking tour around the colonial downtown area. Start at Sule Pagoda, an important landmark situated in the very centre of Yangon and the point from which all distances in Myanmar are calculated., Then, learn about British colonial-era buildings such as City Hall, Immigration Office and High Court Building. Following the historic tour, stop at Mahabandoola Park, home to the Independence Monument, for photos and an opportunity to people-watch. .
The day will end with a visit to Botahtaung Pagoda on the banks of Yangon River., This is one of the few pagodas in Myanmar which allows visitors to step inside so is well worth a visit. .
Dinner tonight will be served at one of the highest quality restaurants in Yangon – Le Planteur. Le Planteur hosts a fabulous wine cellar with one of the best selections in all of Myanmar. Its doors opened back in 1998 and it boasts a picturesque location on the waterfront of Inya Lake. Your meal will be cooked by one of the city's top chefs and served either in the garden by the lake or inside a beautiful colonial building.
Return to your hotel after dinner.
Overnight in Yangon.
After breakfast check-out and transfer to the airport for your flight to Mandalay. Upon arrival you will be picked up by private air-conditioned vehicle and taken into this royal city, the cultural centre of Myanmar. 
Start with a visit to Mahamuni Pagoda, a four-meter-high Buddha image cast in bronze, but gradually covered with a thick layer of gold leaf over the years. If you are lucky you might even see devotees applying gold leaf to the image (this visit is time permitting). We will then go to some arts and crafts workshops such as a tapestry and handmade gold-leaf making workshops. Mandalay is famous for these arts and is the best place to see the intricate work in action. 
Afterwards, proceed to Shwe Nandaw Monastery, or 'Golden Palace Monastery', well-known for its exquisite wooden carvings and being the last remaining part of the original Royal Palace. You will also visit nearby Kuthodaw Pagoda, renowned as "the world's biggest book", containing 729 marble slabs inscribed with Pali scriptures, all surrounding a pagoda.
Before sunset we will go up to the top of Mandalay Hill from where you can enjoy breath-taking panoramic views of the city and the Irrawaddy River while watching the sun go down. Friendly locals often gather here.
Enjoy an early dinner at a local restaurant.
After dinner, head to Mintha Theatre to enjoy a classical Myanmar dance show lasting one hour. The show is composed of a series of short dance pieces by performers in lavish traditional costume. All profits generated go towards the Inwa School of Performing Arts to help preserve this authentic culture. 
After the performance you will be driven back to your hotel.
Overnight in Mandalay. 
After breakfast set off on a half-day excursion to Mingun. Take a short drive from your hotel to the jetty where you can observe the lively activity of boats arriving and departing before boarding your own riverboat to travel to the ancient capital city of Mingun (approximately 1 hour each way).
The first stop after disembarking is the unfinished yet magnificent Mingun Pagoda which would have been the largest pagoda in the world had it been completed. Then walk to the Mingun Bell, the largest ringing bell in the world. Afterwards, continue to the white-washed Hsinbyume Pagoda (Myatheindan), a replica of the mythological Mount Meru where your guide will tell you the interesting story behind it and give you time for an amazing photo. Then, stop at the numerous galleries lining the road while strolling back to the jetty. .
We will cruise back to Mandalay and transfer to the hotel for a bit of rest. 
In the afternoon, travel to Amarapura, the 'City of Immortality' and former royal capital. Here we will visit a silk-weaving workshop and end the day with a sunset walk over the 200 year-old U Bein Bridge, the longest teakwood bridge in the world (1.2 km). You will also have an opportunity to take a sunset ride on Taungthaman Lake and enjoy the beautiful sunset from a different vantage point (optional).
Dinner will be served at your hotel tonight. 
Overnight in Mandalay.
Day 5
Anawratha - Heritage Line Cruise (3 Days, 2 Nights)
Before noon you board the luxurious Anawrahta, berthed at the quay of Mandalay's riverside.
After a friendly welcome by our staff offering some refreshments you move into your "home" for the next days. The ship sets sail towards Sagaing, one of the ancient capitals of Myanmar. Please find your way to the restaurant "Hinta Hall" for lunchtime. After feel free to enjoy your time at the open air Kipling's Bar or on the sun deck while Anawrahta is approaching Saigaing.
We disembark for a wonderful discovery of some very highlights of Sagaing and the former royal capital of Ava. We cross the well-known 16 span cantilever "Ava bridge", built in 1934 by the British, which connects the two old capitals. Ava (also called Innwa) was the metropolis of the Burmese kingdoms between the 14th to 19th century. By horse-drawn carriage we explore this area, sprinkled with many kinds of distinguished ancient monasteries and fanes: Bagaya Kyaung a jaw dropping teak monastery built in 1834, which nowadays continues to be a monastic school; Maha Aung Mye Bonzan Monastery or the Nanmyint watch tower come both in a different art and creation. It is the peace of Ava which you by then hopefully absorb during a laidback picnic teatime at a secret place in the middle of this sacred spot on earth.
Back on board, we learn more about some of the long-lasting tradtions (Longyi and Thanaka demonstration). A fascinating presentation about the history and culture of Myanmar follows afterwards.
Before your first dinner onboard you are warmly invited by our cruise manager to a cocktail gathering at Kipling's Bar.
For early morning risers there is a special opportunity to participate at a yoga session on the sun deck. Strengthen your muscles and ease your mind by merging with the Ayeyarwady and its therapeutical flow downstream. Our next stop is Yanderbo.
After the breakfast, a lecture about Bagan's history is offered at the Mandalay Lounge. We have some cruising relaxation time during the morning. Gaze on the river banks of this eternal stream from your bench on the sun deck or alternatively, a spa treatment would have the same recreation effects.
After lunch on board the ship arrives at the quiet, small riverside village of Yanderbo. A unique and fascinating gem of a village where in 1826 the King of Ava signed the Treaty of Yanderbo, signaling the end of the First Anglo-Burmese war. Nowadays the villagers produce a type of water pot which is reputed to keep water cooler than pots from anywhere else in the country. Anawrahta's broad-knowledge guides will offer you the explanation to that.
On foot we explore the village. You quickly notice that the villagers here are extremely friendly, charming and open for chitchats. You will definitely take back home some enchanting memories. Their techniques and skills to produce a variety of pots and utensils are perplexing. Try yourself to work on one of these pots.
We return to the ship for the afternoon high tea. As we sail on to the next overnight spot Pakokku, we pass the confluence of the Ayeyarwady and it's greatest tributary, Chindwin River.
As the evening approaches and the Burmese sun immerse everything in a golden light a special event will take place at the Kipling's Bar. Dress up in style as we send "A toast to the past" during a British club where gents may whiff cigars and ladies sip on tasty gins with tonic. Share some tales of the old (British-Burmese) days. Isn't sometimes the time to lose time.
Adjacent dinner is served at the Hintha Hall. If you feel like it you can join our open air cinema under the stars on the sun deck showing classic movies (depends on weather conditions).
Our representative guide will be waiting for you at Aye Yar jetty to welcome you after the luxury cruise trip and to accompany you to your hotel where you will have some time to relax.
In the late afternoon, it is time to begin your exploration of the ancient city of Bagan by horse cart, during which you will have the chance to experience the most panoramic sunset over the temples.
Your horse cart driver is an expert in finding the best spots for memorable photos, while your tour guide will provide information about some of the pagodas you ride past. Dinner will be served at Nanda Restaurant with a short traditional puppet show providing the entertainment. 
Overnight in Bagan. 
Early this morning take the opportunity to embark on an adventure of a lifetime with a breath-taking ride in a hot-air-balloon over the ancient temples and pagodas of Bagan as the sun begins to rise. Depending on the weather, the flight usually lasts around 45 to 60 minutes. This activity is extremely popular, but rest assured we will pre-book once you confirm your interest.  
After the hot-air-balloon flight, you will be brought back to the hotel for breakfast. 
Then you will visit the colorful Nyaung U Market where dozens of vendors from nearby villages come to sell their fresh produce. It is a great place to experience local life in Bagan. Afterwards, drive to Mount Popa (around 45 minutes by car), also known as the 'Flower mountain'. 777 steep stairs lead up to the 737 metre (2,417 feet) high peak of its extinct volcanic vent ('Taungkalat'). Small pagodas and temples are perched at the summit, from which you have a lovely view over the surrounding area. Mount Popa is the home of the country's most powerful Nats (sacred spirits). Many Buddhists believe in these spirits and go on pilgrimage to the mountain to make offerings.  
Lunch will be served at Popa Mountain Resort with a stunning backdrop over the surrounding countryside. 
After sightseeing around Popa, head back to the plains of Bagan. En route, visit Shwe Hlaing Village, located just outside of Bagan. The people of this rural village make their living by producing various items from the local toddy palm trees, including. palm sugar and palm wine, both of which you can try during your visit. You will have some time to walk around the village and observe the process of making Myanmar sweets and liquor from the toddy climber's scramble up the tree to the final product itself. 
In the evening before sunset, we will take a boat to a sandbank in the middle of the Irrawaddy River and enjoy a delicious sandbank dinner with multiple courses of local dishes, such as curries and fried snacks. While enjoying the sunset you can also watch a demonstration of 'chin lone' (Myanmar football) by local experts, and give it a go if you would like.. This is a truly authentic experience that you will not get anywhere else in the world. 
Overnight in Bagan. 
Day 9
Bagan - Thandwe - Ngapali Beach
Enjoy breakfast at the hotel before transferring to Nyaung U Airport for your flight to Thandwe (you may have to fly via Yangon). In Thandwe , you will be picked up at the airport by a representative of the resort you will be staying at and taken to your beachside accommodation. 
There are several beautiful beaches in Myanmar and Ngapali is one of the most accessible ones, however it still retains a pristine charm and is much uncrowned. 
In Ngapali you will find unspoiled white sandy beaches and crystal-clear water for snorkelling and swimming. Relax in the shade of palm trees, wander along the soft sand and watch the fishermen during their daily catch, or just let the breeze from the Bay of Bengal clear your mind as you read a good book. After your immersive cultural journey through the rest of the country, this is the perfect place to relax and reflect on your experience.
Overnight in Ngapali.
Day 10 - 11
Ngapali Beach
Breakfast at your hotel. 
The rest of the day is at your leisure to rest and relax. There are plenty of activities to take part in at Ngapali Beach, including snorkeling, boat trips, local market visits and cycling tours. Feel free to contact your hotel's concierge to make any bookings.
 Overnight in Ngapali.
Day 12
Ngapali Beach - Thandwe - Yangon
Breakfast at the hotel and time to relax on the beach during the morning. 
In the afternoon, you will be brought to Thandwe Airport for your flight back to Yangon. 
Upon arrival, meet our local guide who will accompany you to your hotel for a last night in South East Asia's 'Garden City'. As the sun begins to set, head to Shwedagon Pagoda, the most iconic site in Yangon and the most religious place in Myanmar. It is the lifetime objective of all Buddhists in the country to visit this beautiful gold-plated pagoda dating back 2,500 years at least once. Enjoy the peaceful and spiritual atmosphere as you walk around Shwedagon, taking in all the sights and incense smells.
For your farewell dinner head to O'thentic, a gay-owned French crêperie, bistro and wine bar. The friendly staff and buzzing atmosphere are sure to give you the best possible send-off from Myanmar. 
Overnight in Yangon.
This morning transfer to Yangon International Airport for your departure from Myanmar, full of unforgettable memories of a truly unique country.